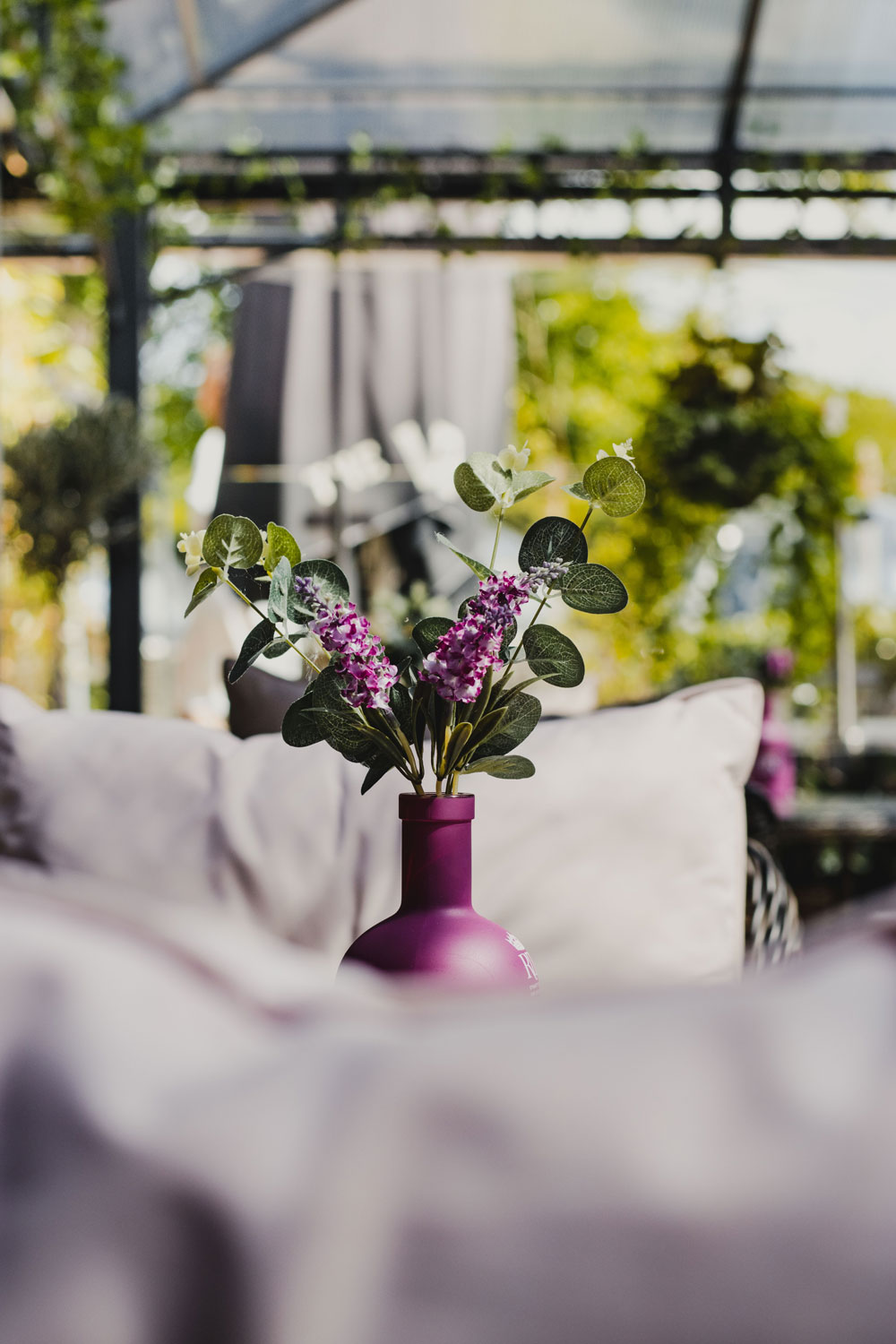 THE LANCASTER ARMS. DESFORD. LEICESTERSHIRE
SUMMER GARDEN INCLUDING
BURLEIGHS GIN TERRACE
Our Summer garden is here!
Burleigh's Gin Terrace is made beautiful with flower-filled screens and ambience enhancing flame cubes. Made comfortable with wind curtains and overhead heaters.
Our spacious all-weather garden enjoys a mixture of seating arrangements from wooden Arbours to cushioned rattan furniture.
Our Dine at Dome partnership continues throughout Summer with the garden looking spectacular with all the lights from dusk.
FAQ's (click to expand)
Q. Are you a pub or a restaurant?
A. We are both but we don't have a bar.
Q. Do we have to book?
A. We are a table service only venue.  We are very happy to accept walkins but it's always best to book as we staff according to bookings and our best guess for walk in trade on any given day.  Sometimes this means we have free tables but not enough staff to serve additional walk in tables.  We apologise in advance if this happens.
Q. How do I book a table?
A. Bookings are now exclusively online via our website.
Q. What options do I have to pay?
A. We are a card service only venue.  We can only accept cash if it is for the correct sum.  If you wish to sit in the garden or terrace you will need to bring a payment card to be secured in one of our card safes.  Settlement of the bill is at the end of your visit.
Q. Can we pay as we go?
A. We operate a table and tab service where guests pay at the end of their visit.  Guests in the garden or on the gin terrace must place a payment card in one of our Card Safes such as have been used at Lords Cricket Ground since 2012
Q.  Can we bring a birthday cake?
A. Yes you can.
Q. Can we bring decorations?
A. Balloons, runners and presents are allowed (anything which requires clearing up afterwards such as table confetti or poppers is NOT allowed)
Q. Are we dog friendly?
A. Well behaved dogs are welcome in the garden, on the terrace and in the domes but it's guide dogs only inside.
Q. Are you child friendly?
A. We are an adult centred venue with no play area but look after families of all ages every day.  We have car seat cradles, high chairs and booster seats for the little ones. We do request that small children leave by 7pm and that parents with children respect the rights of other guests and our team at all times.
Additional Questions on our Dine at Dome facility.
Q. How do I book a Dome?
A.  Bookings are exclusively via the following link
Dine at dome – The Lancaster Arms | Pub and Restaurant in Desford, Leicester
Q. Can the Domes hold more than 6 guests?
A.  Domes are luxury furnished for six guests only.  We can fit in two extra small chairs for children but the adults then have to help our servers passing menus, food, plates and drinks round the table.  For such requests, please make your reservation for six but make a note on the booking for the extra childrens seat(s)
Q. How long before my booking can I decorate my Dome.
A. There is a tight turnaround on Dome sittings, so if you wish to decorate then it is advisable to delay the rest of your party by a few minutes.  We are happy to hold balloons during the day of visit and put them in as we set up.
Additional Questions on Private Dining – The Cabinet Room
Q. Is there a hire charge?
A. No, but there is a minimum reservation requirement of ten adult two course meals and drinks..
Q. Is a deposit required?
A.  Yes, a £100 non refundable deposit.  Deposits must be received before a booking is confirmed and deposits are paid online once your enquiry has been replied to.  Deposits will be deducted from the bill.  We reserve the right to charge for any damage or excessive mess.  The person making the reservation is responsible for this.
Q. How do we pay?
A. The food & drinks bill for the whole party must be settled by one person.  No split bills.
Q. When is the Cabinet Room available to book?
A.  Wed / Thu 6:30 till 9:30pm
Fri / Sat 1:30 – 4:30 or 6:30 – 10:30pm
Sunday 1:00 – 4:00 or 4:30 – 7:30pm
Q.  Will we need to pre-order?
A.  Yes,for starters and main courses apart from a Sunday.  Orders need to be in by Sunday the week before your reservation via our booking system for each person in the format of;
Name
Starter
Mains
Q. What time is food served?
A.  Generally between half an hour and 45 minutes after your booking time.  Orders on a Sunday must be within twenty minutes of arrival.  Any late arrivals must have their food ordered for them by the person booking the room to ensure kitchen timings can be adhered to.
Q.  Is The Cabinet Room wheelchair friendly?
A.  Regrettably it is the only room in the venue which isn't suitable for wheelchair bound guests.
WEDNESDAY – THURSDAY
5pm-10:30 pm
(Food 5pm-8:30pm)
FRIDAY – SATURDAY
Midday – 11:30pm
(Food midday – 8:45pm)
SUNDAY
Midday – 9pm
(Food midday – 6pm)
THE LANCASTER ARMS. DESFORD. LEICESTERSHIRE
A COUNTRY PUB WITH A UNIQUE SUMMER GARDEN
A great selection of gin, wine and fine, earthy, freshly prepared food in a contemporary English country pub & restaurant.
'Let us eat and drink as friends'.
Come and join us – Station Rd, Desford, Leicester LE9 9FP
We're located in the pretty village of Desford in Leicestershire, on the King Richard III tourist trail.
The battle between Richard III and his challenger and victor – Henry Tudor, was one of the most important in English history, effectively ending the Wars of the Roses.
Richard III, buried in Leicester Cathedral, is the only English royal buried outside of Westminster or Windsor. Historians now believe Richard III rested his army at the bottom of the hill we sit on the foothills of.
Our name, The Lancaster Arms and our logo with Richard's boar, honours both sides. In that same spirit of friendship, we look forward to seeing you and to quote William Shakespeare:
Let us 'drink to the joy of the whole table'
We have a lovely selection of gin on offer as well as our outdoor heated Burleighs gin terrace.
Sundays are for sharing… Sirloin of Beef, Goosnargh Turkey or Lamb, plus Yorkies, stuffing, roasties, three veggies, gravy & cheese sauce.
Wine & cheese. Bread & cheese. Crackers & cheese. Or just cheese. However you take yours, we have some of the world's finest for you to enjoy.
Enjoy your meal or a drink where Richard III reputedly rested his army before the battle.
Certificate of Excellence 2019
*****
"Practically Perfect.."
"Visited for Sunday lunch with family. Ambience second to none, efficient, friendly and courteous staff. Food is fantastic! Tasty, freshly cooked, new twist on the old fashioned carvery where you choose your preferred main and beautifully cooked vegetables are brought out to accompany. This place is run with loving care and we cannot recommend highly enough!"
This was the first time I had visited the Lancaster Arms and it certainly will not be my last.
Not only were the management and staff incredibly welcoming but the atmosphere was superb. A real homely yet pub like feeling, the perfect blend. The food that accompanied this was delicious, I'd go back just to try everything.
We will definitely return with empty bellies to fill!!
*****
"Everything was cooked perfectly"
"From start to finish the meal was superb- lovely perfectly cooked roasted meats, gorgeous roasties, plentiful veg with unlimited gravy and cheese sauce.
The roasts also came with Yorkshire puddings, roasted garlic & stuffing. Everything was cooked perfectly and super tasty.
The service was just right- really friendly and helpful without being intrusive."
*****
" I've uncovered a proper hidden gem"
The Lancaster Arms in Desford. Lovely landlord and lady, and perhaps the best proper simple pub lunch i've eaten (top 5 for sure) – Short Rib Stack Burger, Chips and a pint. Get there before you can't.
WHERE TO FIND US

Station Rd, Leicester LE9 9FP
EMAIL US
Info@thelancasterarms.co.uk
WEDNESDAY - THURSDAY

5pm - 10:30pm  (Food 5pm - 8:30pm)
FRIDAY - SATURDAY

Midday - 11:30pm  (Food midday - 8:45pm)
SUNDAY
Midday - 9pm (Food midday - 6pm)
BOOKINGS

Select the time and area using the widget below